This is a Glee appreciation post. Also, this is my only Glee icon and I'm too lazy to find another one. Deal with it.

Okay. I know there's a lot of people who don't like this show and they have sound, logical reasons for that. But man. This show. I don't...

It reduces me to a mess of emotions. I'm just a mess. The hardest I've ever cried for a TV show was while watching BtVS. That sheer torture, you know?

But Glee? Glee is where I'm crying from PURE JOY. Like OH DEAR GOD WHY IS THIS MOMENT SO PERFECT AND THEIR FAAAACES AND THEY'RE SINGING AND OH GOD LET THIS MOMENT NEVER STOP.

I don't watch this show for the plot. And honestly, I kinda check my overanalyzing brain at the door whenever I watch it. This show to me is about emotions and no matter how contrived, it gets me.

Like when the Glee club started skipping and singing down the aisle and I was all NO WHAT IS THIS EW and the song had the lyric "dumb" in it and I was all INAPPROPRIATE SONG CHOICE PEOPLE and then suddenly it was like OOOH THEIR FACES THEY'RE DANCING AND SO HAPPY OOOH IT'S A WEDDING THAT MARCHES TO ITS OWN DRUMMER BOY DRUM.


And then Finn was all we're a bromance Kurt. We're Furt now. And then he started singing "Girl you're amazing" to Kurt (and I'll be honest at first I was like WTF FINN the toast isn't for Kurt and then I was all YES IT'S OK THIS MAKES MAMA HAPPY SO GO FOR IT). And Finn was like swoon-singing to Kurt, then Rachel thought he was gesturing for her to come dance with him, then she LAUGHS and realizes he wants Kurt and she's so happy as she shoves Kurt towards Finn and they dance.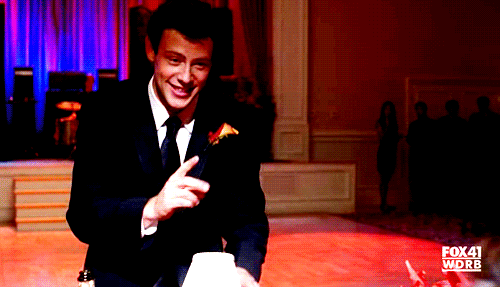 Source




I just...

MESS. JOY TEARS.

THESE ARE JOY TEARS.

If you didn't like this scene. I just... emotionally I'm not gonna understand your experience. 'Cause I was THERE. I EVEN REWATCHED IT AND CRIED ON THE SECOND GO.




Also, I just love this song. I've loved it for a while.

You're amazing just the way you are.

MY HEART.

(Also, I missed Blaine SO MUCH. Why wasn't he Kurt's date to the wedding? BLAINE WHERE ARE YOU?)